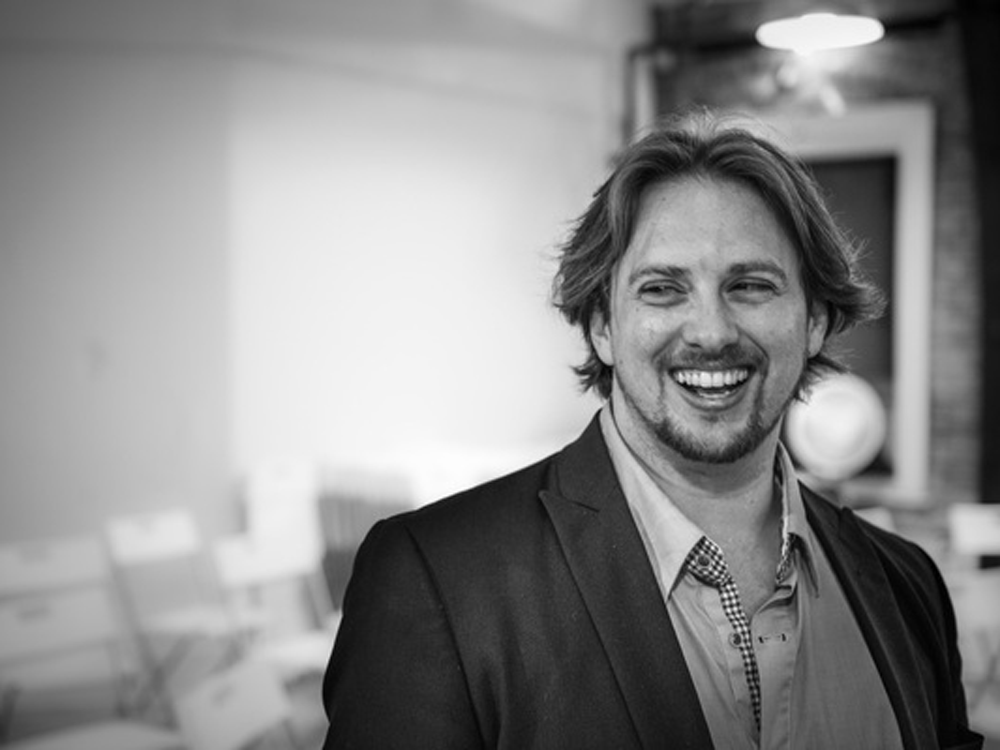 Bertrand Nepveu, CEO of Vrvana: Driven by passion
Bertrand Nepveu's Story
Presented by

When the winds finally changed course for Bertrand Nepveu and his virtual reality (VR) headset , he had been labouring on his project for 9 years. Here is a portrait of a passionate technopreneur who had faith in his vision.
In the spring of 2014, Bertrand Nepveu had an important decision to make. Totem, the virtual reality headset he had devoted nearly 9 years to developing, wasn't ready to be launched, but an excellent opportunity had presented itself. 
Facebook acquired Oculus VR for 2 billion dollars, sending a strong signal that virtual reality would soon be within the reach of the average consumer.
Bertrand Nepveu had reason to be proud of his invention. Totem, which features synchronized cameras on the face of the headset, provides an enhanced, completely immersive experience. He realized that it was now or never. The Vrvana CEO pursued a new round of financing and it was a success: he received $750,000 from the Real Ventures risk capital fund, in addition to $181,000 raised through a Kickstarter campaign. 
Vrvana is now among the virtual reality front-runners. Bertrand Nepveu hopes to introduce his technology to the booming VR/AR market.  To fully grasp the scale of the challenge, just think back to the battle waged by VHS and Beta in the 70s and 80s
A short story about a marathon that's starting to look like an innovation race
A born entrepreneur
Even as a young boy, Bertrand Nepveu already knew what he wanted to be: "A lot of kids wanted to be doctors or hockey players. But I wanted to become an entrepreneur," he says. "I wanted to create something." 
That led him to choose Computer Engineering at Université de Sherbrooke. It proved to be a wise choice for this die-hard fan of video games and tech gadgets, who describes himself as a hard-core gamer. 
A techie, but not necessarily a geek. "I've always been a bit of an outsider in my chosen field. I'm extroverted and social. When I was younger, I was the one who organized the St-Jean Baptiste parties." 
After graduating, he worked for three years for a computer company, but he quickly came full circle. An idea had been floating around in his brain: to create a completely immersive VR headset.
An idea that was gaining ground
Bertrand Nepveu had always been interested in the completely immersive virtual reality experience. He got his first taste of it in 1989 when Nintendo released Power Glove.
The 2005 arrival of the xBox 360 game console convinced him that technology could finally provide the consumer with an enjoyable VR experience.
He saw an opportunity: "At that point, no one was meeting the need." As an avid gamer, he craved an experience that went beyond what standard video games were providing, with their medical and architectural applications.
Bertrand Nepveu launched his company, Vrvana, in 2005.  He dove headfirst into his venture, with two part-time employees. He developed a platform, ran tests and created a prototype using a 3D printer.
Using cameras to produce enhanced reality seemed promising, since it was more immersive than the lenses used by his competitors.
At the same time, the entrepreneur went on the road to sell his idea. Without much success. "It's hard to raise risk capital in Canada," he explains. "Investors are more risk-averse here." 
Then everything changed with the Facebook announcement.
The future has arrived
If Facebook was interested in virtual reality, it meant the company realized the potential VR represented for its own platform. Even though Oculus VR technology drew mixed reviews, Bertrand Nepveu believed there was room for improvement. 
Then his phone began to ring. The Vrvana president began to get calls from investors who had turned him down a few months earlier. VR was creating buzz.  Bertrand Nepveu decided to advance the launch of his Totem headset.
He needed capital to finance production, so he convinced Real Ventures to invest and launched a Kickstarter campaign. Time was running out. The marathon had become an all-out sprint to become the ultimate VR reference point. 
Major entertainment industry players started to pay attention and Bertrand Nepveu began to present his invention to multinational decision-makers. "It was an exhilarating experience," he admits.
Driven by passion
"It's also really gratifying," he adds. "When you see the pleasure and astonishment experienced by Totem users, you realize that the project was worth all the effort you invested in it." 
Bertrand Nepveu never keeps track of all the hours he has invested. All those lost weekends and sleepless nights. He is a level-headed entrepreneur: "Five out of every 10 start-ups fail; 3 pick up their marbles and leave the game, and 2 take off and become a success." 
But until he knows whether or not Vrvana will be one of the winners, Bertrand Nepveu continues to push his project fuelled by his contagious passion for VR.