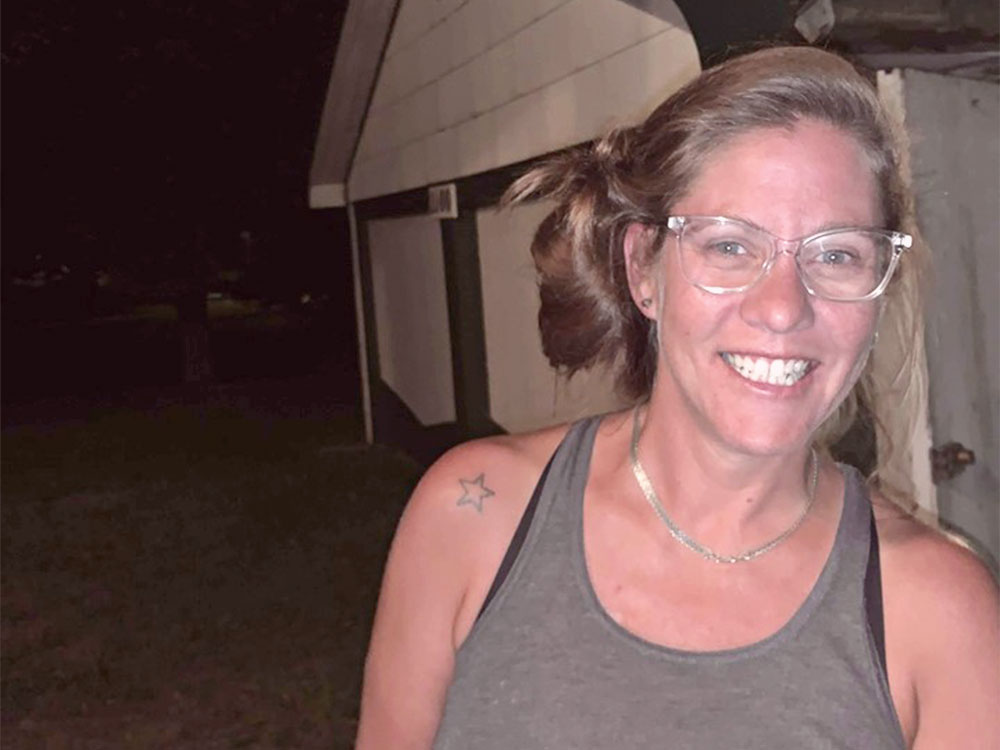 Belle et Bottines: New model women
Vicky Bonneville's Story
Friday, February 21, 2020
Working in a sector considered to be not conventionally female often brings its share of challenges for women, such as being able to dress appropriately to accomplish routine tasks. To solve this continual annoyance and enable women to work with pride, Vicky Bonneville created Belle et Bottines.
Hailing from Saint-Sébastien in Montérégie, Vicky Bonneville grew up in a family that ran a pig farm. Since she was also very interested in the agricultural sector, she pursued studies in the field and became the head of an experimental plot for Agriculture Canada. Today she manages 205 acres of land—and 14 researchers—that host a number of experiments for research and development purposes. 
The idea
To be comfortable on the job, Bonneville had long borrowed pieces of clothing from her husband. "But it came to a point where I was fed up looking like a little girl who'd borrowed a sweater before going out in the field," explains Bonneville. "I know how to do an oil change too, and I also know how to drive a tractor. That's always been my job." 
Clothing that was adapted for women in "non-conventional" occupations did already exist, but at a prohibitive price, especially when it came to clothing that would get dirty and take a beating. As the farmer herself puts in, "$75 for a vest or $35 for a T-shirt that you know you're going to rip within a week, that's a bit much." So Bonneville made it her mission to search for clothing that could be adapted to her lifestyle, meaning items that weren't too tight, were longer in the back, that still fit well even with her arms raised, that were cut properly in the front so that they wouldn't expose too much the moment she bent over, etc. They also needed to be affordable. She pored over catalogues from suppliers, ordered a range of models and began a process of testing, washing and evaluating the quality and comfort of the items she had selected. A few iterations later and the Belle et Bottines logo was born. Out of the same concern for durability, she found a local embroiderer for the first few pieces made by the line. "I chose to have the logo embroidered because work clothes are mistreated. Personally I have four or five sweaters that I wash every time I wear them." She had found a formula that worked. Slowly, the clothing Bonneville wore started attracting her friends' attention, who asked her to provide them with clothing. Demand grew. 
"Belle et Bottines is also the story of all those girls that chose a non-conventional career. We should be proud of what we've accomplished; in 2020, we've earned our place."
Deployment
The Belle et Bottines brand was born in July of 2018 when the apprentice entrepreneur decided to sell her clothing at a local charitable event. At that time, unsure whether she wanted to invest her time and energy in the project, she only landed sales through word of mouth. Then, a few months after launching her brand, she discovered that another woman in Quebec was creating a comedic line of clothing aimed at female famers—that's when she got her first big idea: Belle et Bottines was a project she really cared about and she should try and evolve the brand further. So she created a Facebook page for the company and began attending horticultural fairs, evening receptions for farmers and any other events she could get into through her network. Since she needed to keep her day job, the entrepreneur and mother devoted her evenings to growing her business and preparing orders to be sent through the mail. 
The next step
Since her project is self-financed, Belle et Bottines doesn't yet have a dedicated web platform, despite the fact that she's already started taking a few steps in that direction. While this project is in process, Bonneville in the meantime has received a pre-order for around a hundred items of clothing for a co-branding venture related to the agriculture industry. The entrepreneur will continue her research in order to find a better quality-to-price ratio for the pre-ordered items and  also to add new models to her catalogue. Amongst the pieces coveted by women involved in physical labour are socks that don't ball up inside their shoes, as well as full-size and ankle boots that are really hard-wearing. At the moment she offers pieces in quilted cotton, vests, sweaters and caps, all embroidered in Montérégie. At the same time, she's also developing branded packaging in the form of a box that is ecologically friendly and made locally, and that won't increase the cost of her clothing. 
Does she ever dream of devoting herself full-time to the business? Maybe, but for the moment she takes pride in seeing women wear her products both at work and in their everyday lives. "Basically I did this project for me. I fulfilled my own clothing needs. It was a favour I did for myself and that I hope to do for others."
 
Belle et bottines in Numbers
205: Number of acres of land managed by Vicky Bonneville
10: Number of clothing items currently offered
WANT TO LEARN MORE?
Visit the Belle et Bottines' Facebook page