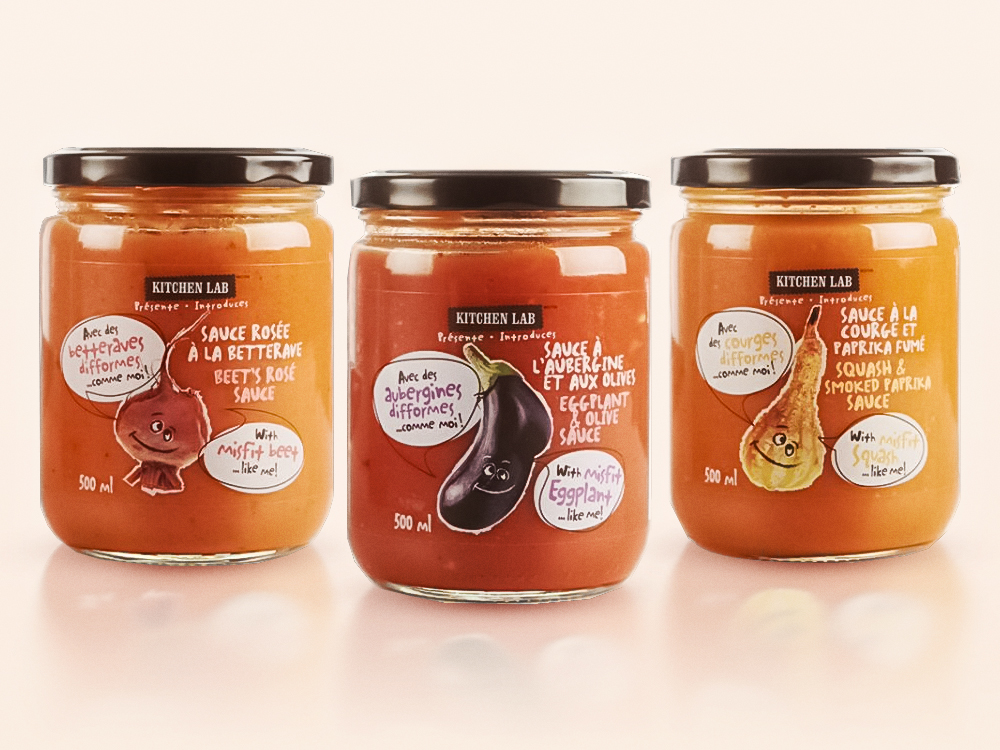 Les Aliments Sibon – Building on tradition
Story of 4 entrepreneurs
Presented by

​​​​​​​Two couples dove headfirst into entrepreneurship when they purchased Les Aliments Sibon, relaunching the company by building on its heritage. Read on for a profile of the four entrepreneurs behind the brand.
For many, having a young family would be a good enough reason to put their plans to start a business on hold. This wasn't the case for Stéphanie David and François Woods, or Amélie Léger and Didier Pageon. Both couples have three young children. 
They teamed up in 2014 to relaunch Les Aliments Sibon, a company now known for its innovative products and enviable international reputation.
The family factor
Stéphanie and François both have degrees in management and always wanted start a business. After the birth of their third child, their plans came to life.
"We took advantage of François' parental leave to focus on our business search," explains Stéphanie. "We wanted to buy an existing company that we could grow."
Were they afraid to go into business with young children? Do they regret it? Not at all. "Of course, we had to be organized," admits Stéphanie. "But at the same time, it made us more efficient."
From the beginning, the couple was looking for a company in the food manufacturing sector, because they had worked in the industry for many years. They discussed their project with their friends, Amélie and Didier, who were in the restaurant business and thrilled to join in the adventure.
The challenge of relaunching a business
The company in question was the result of a merger between Les Aliments Sibon, a small honey producer in Saint-Narcisse purchased in 2006 by a couple in Verdun and Délices d'Autrefois, bought out two years later by the same couple.
When the four partners became interested in Les Aliments Sibon, the company had around forty employees working at two factories in Terrebonne. Their finances were in order and Délices d'Autrefois was distributed widely.
However, there were still challenges. "To get financing," Stéphanie explains, "we had to show the investors that we could grow the company and bring it to another level. We wanted to innovate, but keep its heritage."
To do so, the four entrepreneurs had to make some choices. "We quickly realized that we couldn't promote all of our products in the same way. So we decided to create a flagship product," adds Stéphanie.
The four entrepreneurs delved into traditional folklore to create a refreshing and innovative product. They launched Necta maple water, a certified organic product that has gained popularity in Canada, Europe, Australia and Japan, where maple products typically do well.
The secret to their success: planning and preparation
When Stéphanie tells the story of Les Aliments Sibon, it seems like nothing was left up to chance. Research into the company, as well as its purchase and relaunch, were done to a T, with a lot of planning and preparation.
"Starting a business is stressful," says Stéphanie. "But when you have a plan and a vision, you know what you're doing and you're less afraid."
To get financing from a financial institution, they had to go through the essential step of due diligence, which was longer than expected, admits Stéphanie. But it was important for them to do their homework.
They also had to be thorough when they took over the factory. "We had to win the trust of our new employees. They were loyal to the former owners," explains Stéphanie. "We made sure to plan our first day with them so that we could start things off on the right foot."
Intelligent innovation
When the Metro chain of grocery stores proposed that Les Aliments Sibon create an exclusive line of pasta sauces from imperfect vegetables to fight food waste, the team didn't say yes right off the bat. "We only had around six months to pull it off," says Stéphanie. "We started by assessing whether we had the capacity to deliver on time."
It was a big challenge. "We had to find a vegetable producer who could supply us with imperfect vegetables, which isn't all that common! Then, we had to use artisanal processing methods, because our machines weren't adapted to deformed produce."
In the end, by bringing together tradition and innovation, the four entrepreneurs met the challenge with success and launched a second flagship product: "Kitchen Lab" sauces. With its catchy name and concept, Les Aliments Sibon now has everything it needs to expand outside of Quebec.